HKS: Accessories: GCC
Cue marketing spiel...
HKS GCC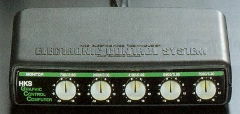 The
Graphical Control Computer
(GCC) is an additional electronic tuning component designed to add flexibility to the VPC and PFC F-CON. The GCC simply plugs into the HKS harness and allows the user to adjust the fuel pulse duration at specific rpm intervals and/or boost levels. At each of the five intervals, the GCC can richen or lean-out the programmed fuel curve. The GCC will interpolate or average between points of adjustment to ensure a smooth fuel delivery.
Used in combination with one of the following HKS units:
• VPC
• PFC F-CON
• F-CON S
• F-CON SZ
• F-CON iS
• F-CON V Pro Silver or GOLD
HKS GCC: Manual